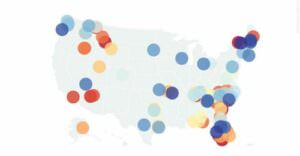 Small cities were a magnet for movers in 2020. From Zoom Towns to Gig Cities, affordable, spacious, and livable spots are seeing sustained growth. Remote work has been trending for some time, but with pandemic restrictions, the world began to speed full-throttle towards a near-universal work-from-home lifestyle. With less need to commute to work, a recent Gallup poll revealed 48% of Americans are now interested in moving to a small town or rural area.
About KOVA Companies
KOVA Companies is a privately owned, full-service and completely integrated commercial real estate firm engaged in management, investment, brokerage, development and financing. Headquartered in Naples, Florida, KOVA's family of companies include KOVA Property Management, KOVA Facilities, KOVA Commercial Group and Carlson Norris & Associates Appraisal and Consulting. Over its 30-year evolution, KOVA Companies has developed a strong foundation and a synergistic operating environment. A multi-disciplined expertise developed over numerous economic cycles has provided KOVA Companies with the ability to enhance profitability for its clients through strategic partnerships and effective solutions. For additional information, please visit www.kovacompanies.com or call 239-261-2627.